There two ways I can chime in on the 2011 list of nominees for the 83rd Academy Awards: one is to express my shock and awe at those who were omitted from the list and the other is to hedge bets on who AMPAS will actually vote for. I'm going to do both, so when I pick a winner, it's not necessarily my first choice, but where I am betting the award will go.
It was another great year for film. Anyone who think some years are stronger than others, just isn't getting exposed to enough of the good stuff. Dozens if not hundreds of great new works were released and viewed at festivals around the world. Oscar time just aggregates the buzziest among them.
So here is the list of noms, along with my comments from the cheap seats:

Actor in a Leading Role
Javier Bardem in "Biutiful"
Jeff Bridges in "True Grit"
Jesse Eisenberg in "The Social Network"
Colin Firth in "The King's Speech"
James Franco in "127 Hours"
Ryan Gosling (snubbed for Blue Valentine).
Too tough to call this one.  Have to see how the night goes.  Bridges got his last year.  Eisenberg did well, but Hollywood won't go for it.  James Franco is a wild card.  Bardem did his work in a foreign film (again).  It will likely sweep and go to Firth.
Actor in a Supporting Role
Christian Bale in "The Fighter"
John Hawkes in "Winter's Bone"
Jeremy Renner in "The Town"
Mark Ruffalo in "The Kids Are All Right"
Geoffrey Rush in "The King's Speech"
Go John Hawkes!  Nice one buddy 🙂 He is great as "Teardrop" in Winter's Bone.
Christian Bale was so good in The Fighter.  
Geoffrey Rush will get this one though. No hard feelings there.
Actress in a Leading Role
Annette Bening in "The Kids Are All Right"
Nicole Kidman in "Rabbit Hole"
Jennifer Lawrence in "Winter's Bone"
Natalie Portman in "Black Swan"
Michelle Williams in "Blue Valentine"
All amazing women, giving amazing performances.  Damn Jennifer Lawrence is so amazingly understated in Winter's Bone. MIchelle Williams stellar (as always) in Blue Valentine. Annette Bening, Nicole Kidman – there is a reason they have been in this position so often before. Natalie's ballet was amazing, her performance was amazing and we need to push her through to a deserved Oscar, even just to acknowledge the span and scope of her work which has nearly always been dead on (Amidala wasn't really her fault). But if Jennifer Lawrence (the big underdog here) takes it, I will not feel let down.
Actress in a Supporting Role
Amy Adams in "The Fighter"
Helena Bonham Carter in "The King's Speech"
Melissa Leo in "The Fighter"
Hailee Steinfeld in "True Grit"
Jacki Weaver in "Animal Kingdom"
Adams again?  Leo Again?  Love them both (they are both a degree of separation and they both did amazing work in the Fighter, Amy especially) but are there only five supporting actresses working in Hollywood?
Animated Feature Film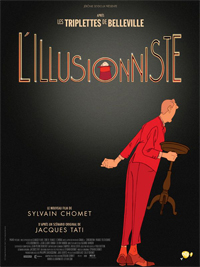 "How to Train Your Dragon" Chris Sanders and Dean DeBlois
"The Illusionist" Sylvain Chomet
"Toy Story 3" Lee Unkrich
"How to Train" for story…
But "The Illusionist" because it's Tati, it's magic, it's beautiful beyond repair, and because it's the kind of thing that doesn't happen twice.
Art Direction
"Alice in Wonderland" – Production Design: Robert Stromberg; Set Decoration: Karen O'Hara
"Harry Potter and the Deathly Hallows Part 1" – Production Design: Stuart Craig; Set Decoration: Stephenie McMillan
"Inception" – Production Design: Guy Hendrix Dyas; Set Decoration: Larry Dias and Doug Mowat
"The King's Speech" – Production Design: Eve Stewart; Set Decoration: Judy Farr
"True Grit" – Production Design: Jess Gonchor; Set Decoration: Nancy Haigh
Cinematography
"Black Swan" Matthew Libatique
"Inception" Wally Pfister
"The King's Speech" Danny Cohen
"The Social Network" Jeff Cronenweth
"True Grit" Roger Deakins
The good old boys comprise this list (Conrad Hall R.I.P.)  – will be happy when any one of these luminaries wins.  They are all Senseis.  If I had to choose, I'd give it to Cronenweth Jr. for the crazy low light style he pulled off in Social Network.  It made Gordon Willis seem like a softie.  But God bless, Roger Deakins.  He is Obi Wan.
Costume Design
"Alice in Wonderland" Colleen Atwood
"I Am Love" Antonella Cannarozzi
"The King's Speech" Jenny Beavan
"The Tempest" Sandy Powell
"True Grit" Mary Zophres
Directing
"Black Swan" Darren Aronofsky
"The Fighter" David O. Russell
"The King's Speech" Tom Hooper
"The Social Network" David Fincher
"True Grit" Joel Coen and Ethan Coen
Nolan is conspicuously absent from this list. Oscars don't take Science Fiction or Fantasy seriously (LOTR being the exception).  Remember Avatar?  District 9? What about Blade Runner? 2001: A Space Odyssey? Only Science Fiction films nominated for best pic in these genres in the history of Oscar before this were A Clockwork Orange (1971), Star Wars (1977) and E.T.: The Extra-Terrestrial (1982).
That aside (as I do have a personal bias towards those genres):
Man this is a tough one to call.  Really really tough.  I am not touching this one.  They are all deserving.  For once. (Except 1999: Director:
SAM MENDES for "American Beauty", Spike Jonze for "Being John Malkovich", Lasse Hallstrom for "The Cider House Rules", Michael Mann for "The Insider", M. Night Shyamalan for "The Sixth Sense")
Documentary (Feature)
"Exit through the Gift Shop" Banksy and Jaimie D'Cruz
"Gasland" Josh Fox and Trish Adlesic
"Inside Job" Charles Ferguson and Audrey Marrs
"Restrepo" Tim Hetherington and Sebastian Junger
"Waste Land" Lucy Walker and Angus Aynsley
Don't get me wrong – I really liked Exit through the Gift Shop.  I idolize Banksy.  Mr. Brainwash is a tool.  But this film isn't one of the best docs of the year.
A couple missing from this list:
"Over Your Cities Grass Will Grow" – Sophie Fiennes
"Cave of Forgotten Dreams" – Werner Herzog
"Darkness of the Edge of Town" – Thom Zimny
"Force of Nature: The David Suzuki Movie" – Sturla Gunnarsson
Documentary (Short Subject)
"Killing in the Name" Nominees to be determined
"Poster Girl" Nominees to be determined
"Strangers No More" Karen Goodman and Kirk Simon
"Sun Come Up" Jennifer Redfearn and Tim Metzger
"The Warriors of Qiugang" Ruby Yang and Thomas Lennon
Film Editing
"Black Swan" Andrew Weisblum
"The Fighter" Pamela Martin
"The King's Speech" Tariq Anwar
"127 Hours" Jon Harris
"The Social Network" Angus Wall and Kirk Baxter
Foreign Language Film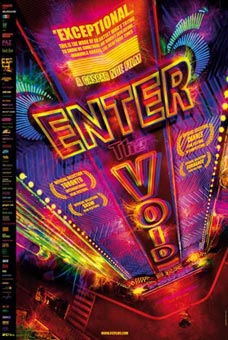 "Biutiful" Mexico
"Dogtooth" Greece
"In a Better World" Denmark
"Incendies" Canada
"Outside the Law (Hors-la-loi)" Algeria
Where is Gaspar Noé's "Enter The Void" – a work of staggering ambition and cinematic brilliance and audacity. Likely, because it premiered at Cannes over a year ago, it has fallen in between the cracks, considered a 2009 release, thus losing any opportunity for award consideration. Which is a shame, because this is truly a masterpiece.
Makeup
"Barney's Version" Adrien Morot
"The Way Back" Edouard F. Henriques, Gregory Funk and Yolanda Toussieng
"The Wolfman" Rick Baker and Dave Elsey
The Wolfman.
Music (Original Score)
"How to Train Your Dragon" John Powell
"Inception" Hans Zimmer
"The King's Speech" Alexandre Desplat
"127 Hours" A.R. Rahman
"The Social Network" Trent Reznor and Atticus Ross
They totally missed Daft Punk for TRON. But go Trent!
Music (Original Song)
"Coming Home" from "Country Strong" Music and Lyric by Tom Douglas, Troy Verges and Hillary Lindsey
"I See the Light" from "Tangled" Music by Alan Menken Lyric by Glenn Slater
"If I Rise" from "127 Hours" Music by A.R. Rahman Lyric by Dido and Rollo Armstrong
"We Belong Together" from "Toy Story 3″ Music and Lyric by Randy Newman
I'm over Randy Newman being nominated for Toy Story songs.  Please stop.
Best Picture
"Black Swan" Mike Medavoy, Brian Oliver and Scott Franklin, Producers
"The Fighter" David Hoberman, Todd Lieberman and Mark Wahlberg, Producers
"Inception" Emma Thomas and Christopher Nolan, Producers
"The Kids Are All Right" Gary Gilbert, Jeffrey Levy-Hinte and Celine Rattray, Producers
"The King's Speech" Iain Canning, Emile Sherman and Gareth Unwin, Producers
"127 Hours" Christian Colson, Danny Boyle and John Smithson, Producers
"The Social Network" Scott Rudin, Dana Brunetti, Michael De Luca and Ceán Chaffin, Producers
"Toy Story 3" Darla K. Anderson, Producer
"True Grit" Scott Rudin, Ethan Coen and Joel Coen, Producers
"Winter's Bone" Anne Rosellini and Alix Madigan-Yorkin, Producers
What is with these huge lists of best picture noms recently?  Just commit.  This is just politics and diplomacy.  Why the fuck is Toy Story on this list? I'd be fine with any of the others, but I really loved Black Swan. Not decided yet though.
Short Film (Animated)
"Day & Night" Teddy Newton
"The Gruffalo" Jakob Schuh and Max Lang
"Let's Pollute" Geefwee Boedoe
"The Lost Thing" Shaun Tan and Andrew Ruhemann
"Madagascar, carnet de voyage (Madagascar, a Journey Diary)" Bastien Dubois
Short Film (Live Action)
"The Confession" Tanel Toom
"The Crush" Michael Creagh
"God of Love" Luke Matheny
"Na Wewe" Ivan Goldschmidt
"Wish 143" Ian Barnes and Samantha Waite
Sound Editing
"Inception" Richard King
"Toy Story 3" Tom Myers and Michael Silvers
"Tron: Legacy" Gwendolyn Yates Whittle and Addison Teague
"True Grit" Skip Lievsay and Craig Berkey
"Unstoppable" Mark P. Stoeckinger
Unstoppable or Inception.  I am going with Inception.  Sympathy trophy.
Sound Mixing
"Inception" Lora Hirschberg, Gary A. Rizzo and Ed Novick
"The King's Speech" Paul Hamblin, Martin Jensen and John Midgley
"Salt" Jeffrey J. Haboush, Greg P. Russell, Scott Millan and William Sarokin
"The Social Network" Ren Klyce, David Parker, Michael Semanick and Mark Weingarten
"True Grit" Skip Lievsay, Craig Berkey, Greg Orloff and Peter F. Kurland
See above.
("Salt"…?)
Visual Effects
"Alice in Wonderland" Ken Ralston, David Schaub, Carey Villegas and Sean Phillips
"Harry Potter and the Deathly Hallows Part 1" Tim Burke, John Richardson, Christian Manz and Nicolas Aithadi
"Hereafter" Michael Owens, Bryan Grill, Stephan Trojansky and Joe Farrell
"Inception" Paul Franklin, Chris Corbould, Andrew Lockley and Peter Bebb
"Iron Man 2" Janek Sirrs, Ben Snow, Ged Wright and Daniel Sudick
First of all, Social Network got wickedly snubbed for its perfectly executed face transplant wherein using actors Armie Hammer & Josh Pence, Josh's face was transferred over Armie's throughout the film without ever once feeling like that weird crawly plastic looking business they did with Jeff Bridges in TRON. That said, from the list of delegates, Inception deserves this one, (see above).

PS. TRON > Iron Man 2.
PPS. – Enter the Void?
Writing (Adapted Screenplay)
"127 Hours" Screenplay by Danny Boyle & Simon Beaufoy
"The Social Network" Screenplay by Aaron Sorkin
"Toy Story 3" Screenplay by Michael Arndt; Story by John Lasseter, Andrew Stanton and Lee Unkrich
"True Grit" Written for the screen by Joel Coen & Ethan Coen
"Winter's Bone" Adapted for the screen by Debra Granik & Anne Rosellini
Love me some Cormac, but, creative liberties aside (or perhaps because of them) I'd give this one to Sorkin.  I remember walking out of this yawn-fest and thinking, at least Sorkin did his job right.
Writing (Original Screenplay)
"Another Year" Written by Mike Leigh
"The Fighter" Screenplay by Scott Silver and Paul Tamasy & Eric Johnson; Story by Keith Dorrington & Paul Tamasy & Eric Johnson
"Inception" Written by Christopher Nolan
"The Kids Are All Right" Written by Lisa Cholodenko & Stuart Blumberg
"The King's Speech" Screenplay by David Seidler
Would be nice if Mike Leigh got it for his amazing work.  I'm going with The King's Speech if I had to put money down.
Also, not sure where something like Michael Winterbottom's "The Trip" could be nominated. Even though it's a UK picture, it is technically not "Foreign Language," and Oscar NEVER acknowledges comedy. At least not the kind that doesn't feature Jack Nicholson or directed by James L. Brooks. But The Trip should have been squeezed into this list somehow.
What did YOU think of this year's nominations? What were your favorite films in 2010? Please post a comment and let me know!