Last Train Home (2009)
"Documentarian Lixin Fan follows a couple who, like 130 million other Chinese peasants, left their rural village for work in the city, leaving their children to be raised by grandparents. The husband and wife return only once each year, on an arduous 1,000-mile journey. But their homecoming is not a warm one, as their now teenage daughter, Qin, makes her bitter resentment known and debates pursuing a factory job herself."
From Zeitgeist films, two things struck me about this epic film – the incredibly personal footage that the filmmaker captured amidst the pandemonium and sheer size of this movement, and the insight it affords into one of the most powerful but least understood countries in the world. In spite of its scope, it focuses on the individuals and tells a powerfully intimate human story.
Last Train Home – official US trailer:

Sweetgrass (2009)
"As much a work of cultural anthropology as it is a documentary, this unique film traces the path of a family of Montana sheepherders as they drive their flock down from the treacherous and beautiful Absaroka Beartooth mountain range. With no guiding narration, filmmakers Ilisa Barbash and Lucien Castaing-Taylor let the natural images speak for themselves, capturing the danger, pathos and humor in this haunting elegy to a bygone way of life."
If there is a thing that links the five films I have selected together, it is the ability of the filmmakers to render from seemingly abstract subjects, legitimately engaging stories focused on the people inside of their contexts. On the surface, Sweetgrass may appear a remote subject to city dwellers, and yet it works as an analogy that in spite of the incredible feats of which we are capable, the greatest obstacle is often within our own minds. An awe-inspiring document of a reality leaving the modern world perhaps forever.
The trailer for Sweetgrass:

The Cool School (2007)
"In the late 1950s, when Pollock and de Kooning were being hailed as revolutionary artists in New York, Los Angeles was still dealing with a blacklist that gutted creativity in all media. This is the story of the two men who changed all that. Recording a pledge on a hot dog wrapper to open a cutting-edge gallery, Walter Hopps and Ed Kienholz took the West Coast art world by storm, embracing artists from Marcel Duchamp to Andy Warhol."
Los Angeles is a city like no other. It is a lens and a megaphone, a magnet to the luminaries of so many small villages scattered around the world that transforms and ignites their minds. And yet it is often looked upon as a vapid cultural cesspool. In The Cool School we explore the transformation of a dustbowl into a hotbed of cultural significance that would be exported and impact perceptions of popular culture irrevocably.
The Cool School trailer:

Superheroes (2011)
"Filmmaker Michael Barnett takes on the ultimate odd job in this eye-opening documentary about real-life "superheroes," ordinary people who don capes, masks and alter egos in their spare time to right wrongs and make criminals pay for their actions. Among other characters, you'll meet a tight-knit Brooklyn foursome that tackles tough cases as a squad dubbed the New York Initiative and a San Diego security officer who calls himself Mr. Xtreme."
We collectively pay a lot of money into the blockbusters centered around the fantastical comic book heroes that raised us. Some take these examples of benevolence, courage, public service and yes, pageantry to heart, and in a quest to emulate them, find ways to substantiate their obsession by attempting to make them real. Beyond the rubber-necking curiosity that these real-life characters may elicit, comes a poignant message about being proactive and taking the risk to make a change in the world as opposed to a passive onlooker, judging their often dangerous lifestyle from the sidelines. A parable about taking responsibility and not simply being an innocuous voice of dissent.
Here is the trailer:

Samsara
"A nonverbal film described by the makers as a "guided meditation". The film uses very high quality images, scenes of nature and mankind to stimulate the viewer. The film contains no plot or actors, although there are several performers in the film. Samsara is Ron Fricke's 2011 follow-up to Baraka."
In the picture-is-worth-a-thousand-words spirit of Baraka or Koyaanisqatsi, "Samsara" affords us yet another lovingly executed, desperate look at our beautiful planet. At present, Samara, which had its world premier at the Toronto International Film Festival is awaiting distribution. You can help coordinate a screening at the official site.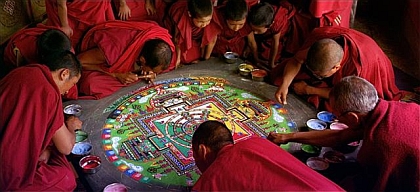 ---