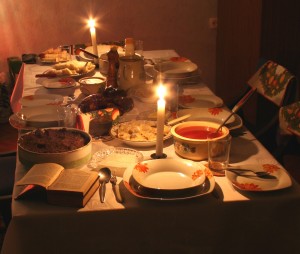 It is Christmas Eve – for me at least because I was raised in a Catholic family. From my father's side came the Polish traditions – Wigilia, the poor man's dinner consisted of a late night family meal where only fish could be consumed, accompanied by the beet soup called Borscht with mushroom perogies. We would sing traditional songs at the piano and attend a Midnight Mass.
Then the my mother's Ecuadorian traditions took over. We would return from Mass to open presents until two or three in the morning. Often the most bearded member of the family would play the surrogate Santa Clause and everyone would take turns accepting gifts from him and take pictures and so on.
Our house was the central HQ for the holiday season and so all the uncles and aunts and their growing legions of offspring would descend upon it. We could numbers in the dozens and the piles of wrapping paper could become quite formidable.
These traditions often came with some bemoaning as we opined about the gluttony and greed and consumerism, but also they maintained something else that was very important – the spirit of togetherness in a time of year that becomes quite cold and quiet and dark. It was a reminder that we all came from somewhere and that the things we believe, our perception of the world has direct roots to our upbringing. They also provided some sense of constancy in such a volatile reality and thus afforded us an anchor in the storm.
Years ago I studied Kaballah under the tutelage of a mystic named Gahl Sasson. One year, when I couldn't make it home for Christmas, Gahl talked about a pattern that existed among all the great religions and traditions at this time of year – that is – that they all celebrated the Light in one form or another. I never forgot this teaching and was never quite so jaded about the holidays again. I Googled Gahl and sure enough he had a recent blog entry recapitulating what he had taught us in that ashram years ago. Rather than paraphrase I include a quote from his blog at CosmicNavigator here:

(more…)