There are so many elements at play when approaching the Toronto International Film Festival – it is one thing to make the decision to travel to Toronto, but far more daunting and exhilarating is the process of doing the investigative work required to get a sense of what any given year will be about. At first you are met with nebulous data, a huge list of film titles that very few, if any, member of the public has ever seen. Aggregating and distilling this list can be approached from many angles. One of my tools is familiarity with past experiences at the festival; directors or producers whose names I recognize, the programmers and their tastes, a brief quickstart guide in the local papers or weeklies. Beyond that, it is just a matter of digging.
This is my fifth year publishing my own lists here at the Culturepin.com because I find that in sharing them, it exposes me to further insights furnished my readers. It not only helps me organize my thoughts in a turbulent sea of information, but it also serves as insight-bait to attract further tips from anyone who may know something about the catalog that I don't. And ultimately I hope that it will help you to navigate it all and have an amazing film going experience.
So if you will indulge me a few moments, and permit me to be your sub-curator, I will share with you the fruit of my labors thus far.
Here are my first-draft picks for films to see at TIFF 2010. Please, I implore you to comment away!
Aftershock | Feng Xiaogang
Country: China
Year: 2010
Language: Mandarin
My choice to position this film at the top of my list should give an indication not only of the caliber but also the intensity of the choices available at this year's festival. TIFF's programmers pull no punches, and in narrowing down my first round picks, I trust I have twisted the winch even further. Aftershock is truly an explosive but also deeply emotionally rooted grand work. It may be as difficult for me to sit through as was 2008's Hunger.
The most successful Chinese movie of all time, Aftershock is based on the novel of the same name by Chinese Canadian author Zhang Ling. An intimate epic, the film sweeps across three crucial decades in recent Chinese history and explores the resilience of a family devastated by 1976 Tangshan earthquake.
Watch the trailer for Aftershock at the tiff website.
Cave of Forgotten Dreams | Werner Herzog
Country: USA
Year: 2010
Language: English
For anyone cynical about the new 3D movement, Werner Herzog offers a new promise for its utility and meaning. Alas, here is a real reason to not wait it out for a VOD release, but instead to actually get your butt off the couch and go out to the movies for what will undoubtedly be an uplifting cinematic experience.
Werner Herzog gains exclusive access to film inside the Chauvet caves of southern France, capturing the oldest known pictorial creations of humankind in their astonishing natural setting. He puts 3-D technology to a profound use, taking us back in time over 30,000 years.
Over Your Cities Grass Will Grow | Sophie Fiennes
Country: United Kingdom, France, The Netherlands
Year: 2010
Language: French, German
Rivers and Tides, the documentary about the time-based work of artist Andy Goldsworthy affected me so deeply that I have been looking for its successor ever since. I suspect this to be a contender. But because I have not seen it and can only suspect, I will rely on Noah Cowan's summary from the official tiff website:
"Anselm Kiefer's monumental artwork explodes into the spaces it inhabits. Dirt and twisted metal, wildly thick impasto and found garbage compete in grand painterly gestures. His themes are volatile and confrontational, often addressing his native Germany's Nazi past and the ravages of the Holocaust through the lens of poetry (Paul Celan is an acknowledged influence) and the Kaballah. In an era dominated by clever conceptualism, his work consistently evokes strong emotions in the museums and galleries where it is exhibited. It is common to find patrons transfixed and deeply moved by his work." – Noah Cowan
Machete Maidens Unleashed! | Mark Hartley
Country: Australia
Year: 2010
Language: English
Blood, breasts, beasts – the three B's form the subject to Mark Hartley's follow up to one of my favorite Midnight Madness films in 2008: Not Quite Hollywood, this time with a focus on genre films out of the Phillipines. I grew up on really bad b-movies and the thought of going behind the scenes with the people that made them for a couple of hours is just irresistible.
Watch the trailer for Machete Maidens Unleashed! at the tiff site.
Biutiful | Alejandro González Iñárritu
Country: Spain, Mexico
Year: 2009
Language: Spanish
From the director that brought you Amores Perros, 21 Grams and Babel, comes an intense, small-scale intimate nerve-gripper starring the man who made a coin toss creepier than your alcoholic uncle Jimmy. Javier Bardem plays a former drug dealer with a bi-polar wife who works as a prostitute in Iñárritu's first film in his native Spanish since his startling debut.
Check out the killer trailer for Biutiful at the tiff site.
Tabloid | Errol Morris
Country: USA
Year: 2010
Language: English
The director of The Thin Blue Line and the Academy Award®-winning The Fog of War tells the story of a former Miss Wyoming whose quest for one true love led her across the globe and onto the pages of tabloid newspapers.
Errol Morris doing what he does best: an examination of the dark side of society in this examination into how we are shaped by the media.
The Trip | Michael Winterbottom
Country: United Kingdom
Year: 2010
Language: English
Reprising their hilariously fictionalized roles from Tristram Shandy: A Cock and BullStory, which screened at the festival, Steve Coogan and Rob Brydon reunite with director Michael Winterbottom for an acerbically witty trip through the English countryside.
Winterbottom makes a road trip movie? The guy who brought us 24 Hour Party People? The same guy who depicted a woman giving her lover a footjob until he shot a load, all on camera in 9 Songs? Something tells me this isn't going to stay inside the margins.
Rabbit Hole | John Cameron Mitchell
Country: USA
Year: 2010
Language: English
I had the good fortune to meet John Cameron Mitchell when he was casting Hedwig and the Angry Inch. Little did I realize at the time that he would move from an underground subculture superstar into a refined, measured powerful directorial figure in the modern American film landscape. I can't admit that that happened with his sophomore release Short Bus, but with Rabbit Hole, he has Aaron Echkart and Nicole Kidman under his watchful gaze doing what some call among their finest work as a couple struggling to deal with the immense sense of loss from the death of their son.
Based on the Pulitzer prize winning play by David Lindsay. I include this film here because the package is most certainly well worth viewing, however, I trust this will get a US theatrical release due to the cast and source so I will not work too hard for a ticket on this one during the festival.
Film Socialism | Jean-Luc Godard
Country: Switzerland
Year: 2010
Language: French
I did a double take on this one. Godard is alive? Alive and well and making films? I'm so out of the loop – I mean, I read tomes about this guy and the influence his films had when he made them over a half-century ago.
This so-called "symphony in three movements," that attempts to make sense of a world beyond comprehension, seems to confirm that he is alive and kicking. Undeniably an experience not to be missed.
The Promise: The Making of Darkness on the Edge of Town | Thom Zimny
Country: USA
Year: 2010
Language: English
Never-before-seen archival footage substantiates the bulk of this behind the scenes look by Grammy and Emmy Award-winning director Thom Zimmy's at Bruce Springstein's fourth and much beloved album. The Boss himself is scheduled to attend. For fans, this is like dying, going to Heaven, and then dying in Heaven and going to the one beyond that.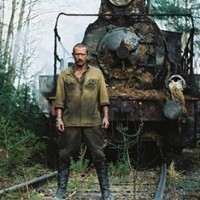 Edge | Alexey Uchitel
Country: Russia
Year: 2010
Language: Russian
Anyone who knows me even remotely has likely heard me extol the virtues of Andrei Tarkovsky's surreal post-apocalyptic masterpiece The Stalker. In fact, I often put it at the very top of my list of favorite films of all time. So when I see a description like:
"Fusing steampunk aesthetics with selective fragments of Russian history, director Alexey Uchitel hurls his new love-laced war epic straight into post-apocalyptic territory"
…you had better believe I will be rolling my sleeping bag out onto the sidewalk to get a ticket.
Daydream Nation | Mike Goldbach
Country: Canada
Year: 2010
Language: English
I <3 Kat Dennings, and this Canadian film from Mike Goldbach (director of Childstar) doesn't yet appear to have an American distributor so it might be one that could otherwise be overlooked once it arrives on the Netflix list.
The Housemaid
Country: South Korea
Year: 2010
Language: Korean
Essentially a remake of director Kim Ki-young's original film Hanyo made over 50 years ago and recently restored by Martin Scorsese's World Cinema Foundation, The Housemaid under director Im Sang-soo's vision alters the dynamic from vengeful femme fatale, to a startling showdown between a high-powered wealthy family and an ordinary women who enters their world. Adding a healthy helping of international cinema to the tiff menu is a must, and to my taste, this Korean fare looks like a perfect pairing with the rest of this list.
Watch the trailer for The Housemaid at the tiff site.
Black Swan | Darren Aronofsky
Country: USA
Year: 2010
Language: English
OK, for what it's worth my friend Daniel Waters (writer of Heathers and Sex and Death 101) told me personally that his own buddy Darren Aronofsky (Requiem for a Dream, The Wrestler) has made a near-perfect masterpiece of a film; a film that he, Daniel himself, wishes he had written. With a cast that includes Natalie Portman, Barbara Hershey and Winona Ryder, Black Swan is a chilling exploration of the psyche of a young ballerina "whose starring role as the duplicitous swan queen turns out to be a part for which she becomes frighteningly perfect."
Interestingly enough, Aronofsky told MTV in a recent interview that Black Swan and the Wrestler began as one project:
"I was actually developing a project that was about a love affair between a ballet dancer and a wrestler, and then it kind of split off into two movies. I realized pretty quickly that taking two worlds like wrestling and ballet was much too much for one movie."
Why is it a "must" ticket for me at the fest? Not because it won't get a release, but because I just can't goddamned wait any longer to see it.
Watch the trailer for Darren Aronofky's "Black Swan" at the tiff site.
And I haven't even touched on the excellent Midnight Madness fare…
Agree? Disagree? Know something I don't? Post your comments below!