Gearing Up For My New Record
This week Josh called the audio rental company in Newmarket that he freelances with and asked them to take part of an outstanding invoice he has and apply it towards an equipment rental so that we could bring a top of the line signal path to my bedroom studio here in Toronto.
Jadefox 2.0, Josh and I drove up to Newmarket and half an hour later walked away with an Avalon U5 mic pre/DI (imho the Rolls Royce of DI's), an AKG 414 mic (which is the mic I used on the Blue Dog Pict records) a Drawmer compressor and this weird semi hollow electric guitar.
I got it all up to the room but didnt plug anything in for a couple of days. Instead I spent the next 48 hours chopping up some of Ryan's overdubbed drum parts and filtering them in every way possible.
I called DJ Shine, who just got back into town from his tour with Nelly Furtado (he was in Osaka, Tokyo and then Los Angeles where he took my gf as his date out to a K.Fed after-party) and asked if I could get a MIDI keyboard. He loaned me his M-Audio Oxygen 8 and finally, I had everything I needed to do anything I want for the record.
That night I laid down some Mellotron, some ambient stuff I programmed on a variety of soft synths, and saw a whole new dimension emerge from the material. I was quickly reminded that just because these songs developed as "unplugged" concepts at the Hotel Cafe, that they aren't and don't need to remain that way. Exciting! The world is my oyster. I reminded myself to get crazy and stay crazy and keep the imagination wide.
Finally after a couple of days, my borrowed guitar all restrung with shiny new silver strings, tuned, retuned, stretched, pulled and tuned again, I plugged in and started laying down parts for Mary Magdalene. The Avalon sounds amazing! Amazing. It has six tone settings, essentially EQ curves that are optimized for electric guitar, acoustic, bass, vocals etc.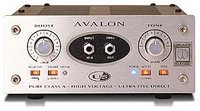 Using that alone through the solid state/tube combo within the DI, I laid down the clean and heavy parts and counterpoint harmonies for the song. I have to say, it sounds just astounding. This is before even re-amping and processing.
Finally, I imported all the different elements, the filtered breaks, the keyboard parts, pads, and the 16 guitar tracks and listened back.
I can no longer find a point of reference for the song. That is to say, it sounds incredible, but it is no longer categorizable via any artist or genre that I can name.
I am sure it will eventually come to order, but right now it is in that deliciously nebulous zone of inception that leaves the mind racing and the heart pounding in the middle of the night as one stands alone, cigarette aloft, drink in hand , in a humid breeze, gazing at the impossible depth of night and wondering if there is a point to it all, and hoping to God there isn't.