Apartment Troubles, originally released in 2014 as "Trouble Dolls" is an independent film written, directed by and starring Jess Weixler and Jennifer Prediger as Nicole and Olivia respectively. They begin as penniless and financially hopeless subletters in a New York City apartment where their inadvertent landlord – Jeffrey Tambor endeavors to push them out. Turns out the character Nicole, played by Weixler, is the daughter of a very rich (and conservative) billionaire. Such is her family's wealth that she is able to whisk herself and her roommate away to Los Angeles for a weekend in one of the family's various private jets. The duo have a clear and present chemistry that comes off like a young Winona Ryder and Brittany Murphy (both with whom I personally worked at some point) from another dimension but feels altogether fresh and, disarmingly, of the present.
Standing on the runway in California, they have not even two pennies to hail a cab, whereupon they encounter a Yuppie with a car who offers them a lift to Nicole's aunt's house. This character, played by SNL's Will Forte eventually has some sort of psychotic episode and the movie never fully returns from this tone. Episode after episode of strange behavior from all characters, deus ex machinas, and non-sequitors lead to a rocky narrative strand but ultimately something that is refreshingly original.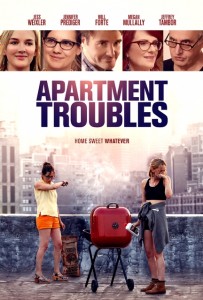 At times the editing feels far too conspicuous and even like a saving throw, and the cinematography, while often complimentary to the leads, involved more handheld than necessary for the piece. The cumulative effect was to reveal that this wasn't, as I had initially suspected, some Jennifer Aniston-style RomCom, let alone a Will Forte vehicle. In fact, all the of the marquee names – from Forte to Lance Bass and even Tambor, are more walk on supporting roles, even cameos and over-billed for obvious box office reasons. A particular standout is Will and Grace's Megan Mullally as the drunken desperate housewife who takes the ladies in upon their arrival to Los Angeles. Looking for all the world like Tina Fey from the same alternate dimension I registered above, Mullaly is charismatic and in step with the tone of the film. Forte, on the other hand, while clearly a strong actor, feels like he may have been making a different movie, perhaps one starring his alumnus Will Ferrell. This is not such a film.
The two leads – Weixler and Prediger that is – hold on strong and deliver nuanced and at times truly multi-layered performances, both dramatically and intellectually – something more likely due to the fact that they are so cognizant of the material they have written and directed. I even had a few glimpses of something altogether ancient, the rough-shod and earnest acting found in the films 70's filmmakers like John Cassavettes or Sydney Lumet catching me offguard. Prediger, who spends much of the film mourning the death of a "friend" plays the beautifully restrained, but textured straight man to Weixler's more over the top tortured artist. Weixler, who may be most famous for her role in the nearly avant-garde dark comedy "Teeth," is destined to become a far bigger Hollywood star than she is presently, and an indie platform like this is what is going to finally catapult her. This may or may not be the one that does it, but it's only a matter of time.
In the end, Apartment Troubles is an engaging, twisting, and even alluring festival film wrapped in marketing better suited for a Gary Marshall holiday picture. I recommend it to the indie crowd but would caution suburban parents looking for a fun night out that this may not be what they expect. I myself, was happily surprised to discover a film for an under-addressed generation, that is to say, the one presently walking the streets.
ABOUT:
The film premiered at the 2014 Los Angeles Film Festival and is produced by StarStream Entertainment. Gravitas Ventures will release APARTMENT TROUBLES in select markets and on VOD and across all other digital platforms on March 27, 2015.