That did not just happen. I did not just rent the movie called "Branded" from a Redbox in Hollywood and see what I just saw. I didn't think the Terry Gilliam "Brazil" effect could happen again. Sometimes it is also known as the "Blade Runner" effect – a film that gets completely overlooked that years later will be seen as a bright torch casting light on its progeny. Branded, by writer/director team Jamie Bradshaw and Aleksandr Dulerayn is what AdBusters would be if it was turned into a dystopian sci-fi movie. But it is also shot in Russia and has a beautiful 1980's vintage film look – think Paul Verhoeven's Total Recall or perhaps Buckaroo Bonzai. The film also incorporated incredibly imaginative and perfectly integrated computer animation to illustrate the insatiable need that corporate advertising creates in the end user.
I can't believe the film was made and that it came from Russia but reached American distribution alongside Dark Knight Rises and the latest Wayans brothers' satire, and moreover that it was nary mentioned on a single 2012 year-end list. This is a film I dreamed of making for years – not necessarily the subject matter alone, but the tone, the style, the acting – it's like John Cassavettes directing Ghostbusters. Leelee Sobieski is amazingly understated but charismatic and sexy in this movie and Ed Stoppard carries the film well, playing the line between insanity and prophecy beautifully.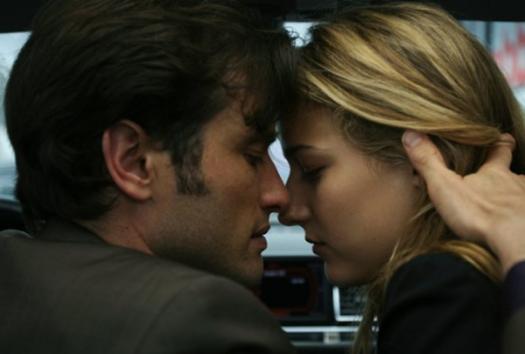 People who are rating it low are more than likely being misled on the film they are going to see. This is an arthouse film disguised as a AAA title, not the other way around. Although it is inevitably a little heavy-handed, and I mean only a little here and there, in order to establish its rhetoric, it is also bleeding edge contemporary, encompassing everything from the powerfully exploitative organic food movement to government bailouts of multi-national corporations. At times the voiceover narration seems a bit forced, but then again you may grow to love it, the same way some prefer the original release of Blade Runner because even though Harrison Ford's dialogue is trite and on the nose, it also is just more insight and material for those who want it. Myself, I am more of a Ridley Scott's Director's Cut no driving away into a green landscape kind of fellow.
Anyway, see it. It works and it is wonderful and it will be the first film to be added to my favorites of all time (that includes the aforementioned Blade Runner and Brazil as well as Andrei Tarkovsky's The Stalker and Oliver Stone's Natural Born Killers) since Olivier Assayas' Demonlover in 2002.
Finally I want to mention that this is a Lionsgate release. LGF has it going ON right now. They are the New Line Cinema for which I originally moved to Hollywood. Fuck the Hobbit. Lionsgate is taking chances and making bold choices – The Hunger Games, The Cabin In the Woods and grindhouse fare like Rambo and The Expendables, and that I have worked on for them via Punisher: War Zone and Texas Chainsaw 3D – which remind of what it might have felt like to work on a Roger Corman film when the going was really good. they are releasing the funnest, most daring slate of any studio around and Branded is a perfect example of that.
ps. don't be fooled by the rather slick American trailers for the film – ironically, just like in the movie, the real thing is far more underground than you might be led to believe.
Rating: