1974 was a one of those strange years that drew infamy, intensity and just plain strangeness with which certain years, be it due to a nexus of precipitating events, or coincidence, become saddled.
I am particularly cognizant of the curiosities of that particular year because it is the year I was born. May 14th. Exactly two months prior, Russell Hoban had a sudden need to begin jotting down strange near-phonetic revelations in his post-nuclear-apocalyptic/spiritual book Riddley Walker. Philip K. Dick identified that year as the one where V.A.L.I.S. – the Vast Active Living Intelligence System – beamed a pink light into his head, causing him to simultaneously inhabit the time of Christ and the present day Santa Clara where he in actuality dealt heroine out of his basement to the local neighborhood kids.
Nixon was impeached. Stephen King published Carrie. The Super Outbreak – the largest chain of tornadoes ever to hit the US and Canada left 315 dead and 5000 injured. India successfully detonates first nuclear weapon. The very first UPC code was scanned in a store in Troy, Ohio. The Symbionese Liberation Army recruited Patty Hearst. Juan Peron, beloved president of Argentina, husband to Evita, dies. Christine Chubbuck, a newscaster for WXLT-TV shot herself in the head in a live broadcast. Restrictions on holding private gold in the United States, created by Franklin Roosevelt are removed.
Duke Ellington, "Mama Cass" Elliot, Ed Sullivan, Jack Benny, Samuel Goldwyn, and Nick Drake, die.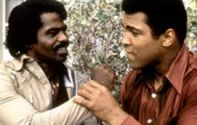 Meanwhile in Kinshasa, Africa, American producer Stewart Levine and South African musician Hugh Masekela organize a three-day festival to coincide with the "Rumble in the Jungle" boxing match-up between George Foreman and Muhammed Ali. The lineup consisted of Bill Withers, James Brown and the Mighty JBs, B.B. King and list of African superstars that included Miriam Makeba and Afrisa. Most of the American music legends were visiting Africa for the first time.
Documentary footage of the event was tangled up in legal affairs encircling the Liberian backers, but footage finally became available when the issue was settled in order to form the basis of the Oscar winner "When We Were Kings" – a documentary concerned with the boxing match. Footage of the music concert remained unpublished – until now.
While bootlegs of the show have been readily available for years, for the first time in three decades, California-born director Jeffrey Levy-Hinte presents a heretofore unseen perspective on the white-hot music of the mid-seventies' monsters of soul in a setting that startles and documents a time when connections were becoming more enthusiastically recognized between contemporary American music and its connections to that of Africa.
Showtimes:
Thursday September 04 06:30PM AMC 6
Saturday September 06 09:00PM AMC 10
Saturday September 13 10:00AM AMC 3