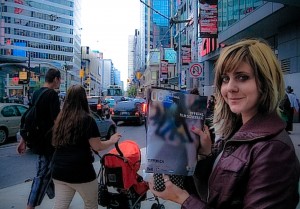 Even a TIFF veteran tends to find the process of getting tickets to the screenings they want daunting, and the cryptic instructions provided by the festival itself are of little help, that is, when you can find them.  This year I wanted to make sure I spared myself wiling away some of my fading years standing in rush lines and decided to buy a 10-movie-pass bundle.
In other years I have either done the rush line thing, that is, standing in line an hour before a screening hoping that there are enough no-shows that ten minutes before the precious screening starts a few of us get hail-mary'd in.  Usually works but it's a lot of work and a lot of snacks; sure it's fun meeting people, but sometimes it isn't and sometimes it rains and sometimes you just don't get in.
Still other times, I have had the benefit of a media pass for reasons I won't get into, and so was able to forego all of the other stuff and just walk into whatever I damn well pleased.
But this year, I have neither patience, desire to leave things to chance, or a golden ticket so I had to do things just like anyone else with an unhealthy passion for cinema might.
Here's what you need to know.  If you want to be 90% sure that you will get into the movies you actually want you will likely buy a 10 or 25 ticket set.  The 10 ticket, which is what I purchased, set me back about CDN $165.  Then I researched whatever I could, went on some hunches, looked for things that seemed rare, underground or unlikely to get wide release, and created an early list.  See earlier entries in this blog for my pre-print-mags-lists – short list.
Then I went to the new box office location for the festival on the 2nd floor of the AMC theaters building on the northeast corner of Dundas and Yonge St. opposite Dundas square, and handed them the ticket voucher they had sent me in the mail.  They gave me a booklet with all the movies, each with a pair of boxes labeled 1 and 2.  1 = first choice.  2 = second choice.
I then find my movies, my preferred screening times and mark the number of tickets I want (up to 4 per screening) with a yellow highlighter in box 1 and the same for my alternate choices in box 2 with a green highlighter, up to the number of passes I have, which is, in my case, ten.
The festival then goes through all such booklets and assigns tickets from all the screenings to these early pass-holders, starting at one, moving up to sixty, and if a screening still isn't full, going back to one and going through the booklets again until any given show is sold out and then you get a crack at the next available screening.
Today I was emailed what I managed to get.  Not all first choices, but most.  So the cool thing is, now I can just go to the movie 15 minutes before (any later and you risk giving up your precious seat to someone in the rush line) and I am guaranteed a viewing.
The second stage of all this, is that on September 3rd, single show tickets go on sale online.  That is when the bumrush happens and shows sell out uber-fast.
Failing that, it's time to stack up on trail mix, bottles of Fiji water (or tap-water if you are a true Torontonian) and get to the back of the line.  If this is you, bring some business cards and/or your screenplay synopsis, you'd be surprised who you will meet at TIFF standing out in the rain.